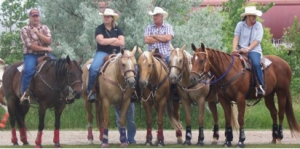 Kathleen and Daryl Rittenour have been training, showing, breeding, appraising or selling horses for the past 35 years.
Schooling is easy for Kathleen, who holds five different degrees in education, as well as her Master's degree in recreation/leisure including certification in riding instruction. She also has been the horse judging coach for her school.
Kathleen has been blessed by being a two time World Champion and her daughter, CalieAnn, a Reserve World Champion. Daryl and son, Cameron, are World top ten finalists.
Kathleen is also an ASAA Certified appraiser; she will bring knowledge of the equine market and professional expertise to each and every assignment. Presently, the Rittenour family show in reining, cattle, and speed events. [Read More]